Hear from Jess Brookes, Transplant Technical Sales Specialist, as she explores noteworthy products on offer from VH Bio: 
As a new starter at VH Bio, I have been looking into the portfolio of products on offer and have come across several assays that I have not seen before in routine H&I. I have noted down discoveries that I found particularly interesting.
To begin with, I stumbled across Non-HLA Autoantibodies. This is an interesting area of research, straying away from classical HLA antibodies.
As we are aware, antibodies can be directed against self-antigens (autoantibodies) or non-self-antigens (alloantibodies). Autoimmunity is a fascinating, perplexing, and potentially life-threatening flaw in human beings, stemming from the body's inability to distinguish non-self from self. Autoantibodies can target endogenous and exogenous antigens and can be a cause of organ failure (e.g. Lupus nephritis).
In the realm of Histocompatibility and Immunogenetics (H&I), we are primarily focussed on avoiding mismatches against HLA, with a wealth of evidence spanning several decades to support HLA matching in most types of solid organ transplantation as well as haematopoietic stem cell transplantation.
There is now evidence to show that prognosis is worse in patients with both HLA and non-HLA antibodies; therefore, it seems prudent to consider both when considering risk stratification and post-transplant monitoring. So, what are non-HLA autoantibodies, and what is their clinical relevance?
Non-HLA autoantibodies can either be pre-existing or de novo; some examples include:
Collagen V and k-alpha tubulin antibodies have been shown to have a causal relationship in bronchiolitis obliterans syndrome (BOS) following lung transplantation;
Angiotensin II type 1 receptor (A1TR) antibodies correlate with kidney injury scores (Dragun et al);
Anti-Perlecan (LG3) antibodies are associated with vascular rejection;
Donor-specific endothelial cell (EC) crossmatches showed kidney rejection was significantly higher in EC crossmatch positive vs crossmatch negative transplants, while C4d negative on biopsy.
One Lambda's LABScreen Autoantibody kits are able to detect autoantibodies as follows:
Group 1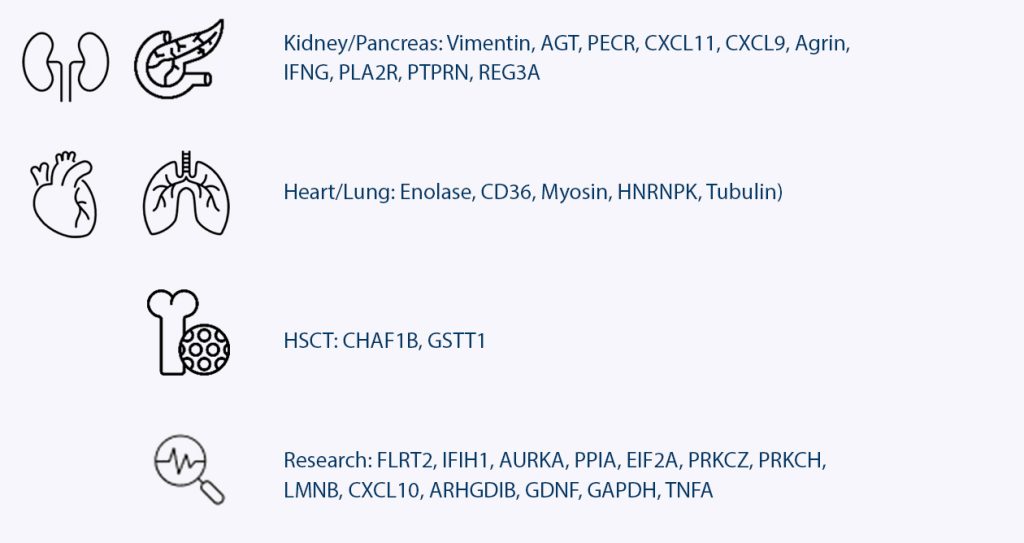 Group 2
Group 3
This is a really interesting area of clinical research, identifying more potential biomarkers for allograft risk and survival than I had previously considered, but which Ben has nicely explored in a White Paper, here.
Next up, HLA Antibody Detection, but not as I know it…
While I am familiar with LABScreen Mixed, Multi, and Single Antigen products, I have now learnt about extended HLA panels (a beautiful blog on this by Ali, here). Since starting with VH Bio, I have been helping troubleshoot tricky cases with our customers, some of which have included problematic serum interfering with bead-based assays. While bead-based assays (e.g. LABScreen) can be highly sensitive and specific, if a patient's serum has high background it can impact the detection of antibodies by these methods.
High background can be due to anti-histidine or anti-latex antibodies in the patient serum (which can either be adsorbed using Adsorb Out or PreSorb pretreatment reagents) or even IgG-IgM complexes (which can be identified with methods described elsewhere, e.g. with the addition of DTT). Where serum pretreatment has not been able to sufficiently remove the factors causing high background, serial dilution may be of use (N.B. the LABScreen product insert stipulates that the negative control serum should be diluted to the same ratio). How far to dilute the serum is entirely sample-specific. For example, research has shown that as you dilute the serum of a highly sensitised patient, the detectable MFI values of HLA antibodies actually rise before they begin to fall. Testing at varying dilutions also has cost implications. In cases like these, due to the solid phase nature of bead-based assays, using an alternative method is sometimes advised.
Cue: ELISA and Flow Cytometry-based HLA antibody detection methods. It sometimes pays dividends to have a secondary method for antibody detection, using the scenario above as an example.
Lambda Antigen Trays (LAT) are an ELISA-based method, using classic Terasaki trays, with wells containing either pre-defined mixed HLA antigens, or single antigens, depending on the kit. The workflow is simple, with the addition of a colorimetric substrate at the end for easy analysis. So, what are the benefits?
LAT Mixed:
Excellent signal to background ratio for clear and consistent results
Detects either IgG or IgM antibodies
Recognises both cytotoxic and non-complement binding antibody
Distinguishes between HLA Class I and Class II specificities
Eliminates interference from non-HLA antibodies and auto-antibodies
Convenient – Terasaki tray format requires smaller volume of reagents
LAT ELISA results are comparable to CDC-AHG
Specific – the LAT uses a pool of purified HLA Class I and II antigen
Defined pool of antigens, including rare HLA alleles (in LAT M only)
LAT Single Antigen:
Single Antigens are produced in human cell lines
Identifies negative HLA alleles in high PRA patients
Simplifies analysis of antibodies reactive to one or several dominant epitopes
Replaces dilution and absorption as strategies for confirmation of specificity
Clarifies ambiguous screening results
FlowPRA on the other hand, incubates patient serum with 30 beads coated in HLA to identify panel-reactive antibodies, before identifying HLA-specific antibodies using Single Antigen Flow PRA beads and uses conventional flow cytometry.
Key benefits of FlowPRA include:
Easy – quick and simple one-tube method to detect anti-HLA antibodies
Powerful – screens Class I and Class II antibodies separately or simultaneously
Accurate – eliminates false positive reactions due to non-HLA antibodies and autoantibodies
Convenient – no frozen lymphocyte panels to maintain and no cell viability issues
Flexible – works with most commercial flow cytometers
Comprehensive – panel coverage equivalent to thirty different lymphocytes
Informative analysis – can determine percent PRA of HLA Class I and Class II simultaneously
Reproducible – consistent results each and every time
Sensitive – more sensitive than CDC-AHG
Economical – minimal shipping and storage costs
And finally (for now), I came across everyday reagents that I didn't realise were available through VH Bio; some of which I have used for prospective crossmatching or serological typing, like:
Complement
Terasaki trays
Lympholyte
Dynabeads
FluoroQuench
Having recently managed a PCR-SBT section, I was also pleasantly surprised to find cost-friendly alternatives to SBT reagents by QuantumSeq (e.g. POP, 5x sequencing buffer, and big dye terminator), plus Performa DTR plates by Edge!
The VH Bio website really has been a treasure trove of H&I and molecular diagnostics goodies. Next, I'll be delving into HNA Genotyping and donor-derived cell-free DNA post-transplant monitoring in more detail.
Variety is the spice of life, they say!