Figure 1. QuantStudio™ 6 Pro
Rapid, accurate HLA typing is essential for Histocompatibility and Immunogenetics (H&I) laboratories to successfully support deceased donor transplant programmes. Advancements in PCR technology have moved beyond basic thermal cyclers, and older generations of real-time PCR instruments have paved the way for newer, sophisticated instruments like the QuantStudio™ 6 Pro or the IVDR-compliant QuantStudio™ 7 Pro Dx.
The QuantStudio™ 6 and 7 Pro systems stand out from their predecessors for their focus on improved user experience, wide versatility, and green features. Consider these key benefits and futureproof your laboratory today!
Improved user experience
Numerous improvements have been made to benefit users. The QuantStudio™ 6 and 7 Pro both include time-saving features, such as facial recognition and Amazon™ Alexa™ for Business, for seamless hands-free operation. The instruments have wireless connectivity enabling easy integration with data management tools; experiments and protocols can be designed from your PC and sent to the QuantStudio™, run status monitored remotely in real-time, and data similarly exported back to your PC or uploaded directly to the cloud. In addition, instrument heat blocks are now smaller and easily interchangeable, requiring no need for tools or instrument shutdown before use.
Versatile Assay Compatibility
The QuantStudio™ 6 and 7 Pro instruments support a wide range of assay formats including genotyping, gene expression analysis, allelic discrimination, and more; giving flexibility to share instruments with local pathology or research laboratories to minimise idle time. Their 96-well blocks incorporate VeriFlex™ technology to create discrete temperature zones for precise control, enabling separate cycling conditions to be used on the same run if required. With both 96- and 384-well blocks available, labs can leverage the whole LinkSeq product range including HLA, HPA and KIR typing plates as well as specific kits for disease association studies. By investing in instruments with such diverse capabilities, labs are ideally placed to adapt and take on new research projects or applications as needs evolve.
Green features
The QuantStudio™ 6 and 7 Pro systems have been designed by Applied Biosystems with the environment firmly in mind. Manufacturing is done at their zero waste-certified facility, and instruments are more energy efficient than ever to help reduce greenhouse gas emissions and save labs money. Footprint has been significantly reduced (up to 71% smaller) and the entire instrument uses less materials (up to 54% less) than comparable instruments. Calibration protocols have been streamlined and only required once every 2 years, reducing calibration waste by 91%.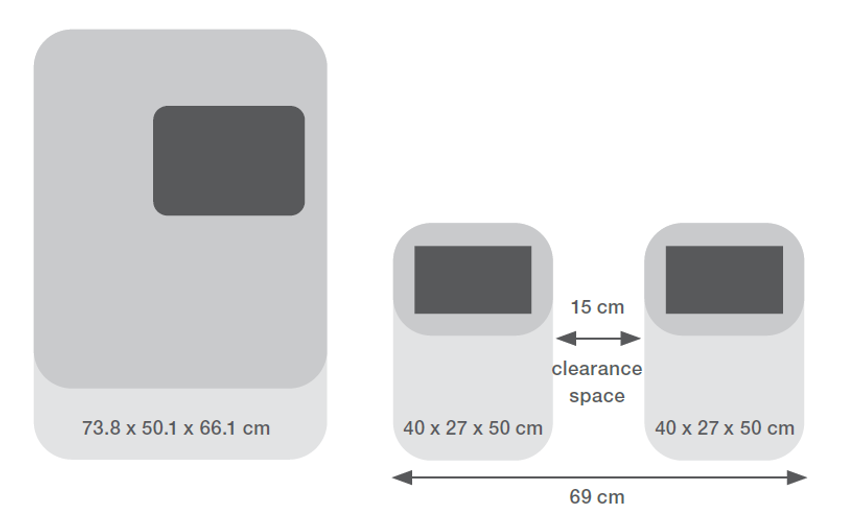 Figure 2. Two QuantStudio™ 6 Pro instruments use less footprint than an older instrument (QuantStudio™ 6 Flex for comparison)
In summary, futureproofing with QuantStudio™ 6 or 7 Pro instruments offer benefits such as adaptability, efficiency, and strong investment value. By choosing an instrument designed to meet a variety of current and future research needs, your laboratory is positioned for continued success and growth.
Get in touch with Ali Rafique, Transplant Technical Sales Specialist at VH Bio, to learn more about QuantStudio™ and how we can help meet your laboratory's needs.